Big City Hotel Rooftop Bars in the US
Hotel bars have always been a mainstay of hotels–for guests, business people, and the general public.  But some American big city hotels are moving away from the traditional indoor, ground-level bars in order to install open-air, rooftop bars that put patrons high in the sky with gorgeous views of the surrounding city.
In the past few years, the popularity of rooftop hotel bars has soared (no pun intended)–especially in cities like New York, Los Angeles, and Chicago.  Once a signature of boutique hotels, rooftop bars now can be found larger chain hotels too, giving guests and visitors a unique atmosphere in which to enjoy a cocktail.   Rooftop bars are decorated stunningly, feature complete cocktail menus,  and are even equipped with heaters or fire to keep visitors warm during winter.
Now that summer, the perfect season for enjoying some refreshing beverages outdoors, is upon us, here are some American hotels that take their rooftop bars seriously:
The Conrad – New York (Loopy Doopy)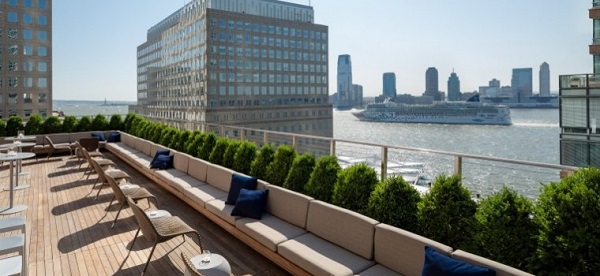 Loopy Doopy rooftop bar was built 16 floors above Battery Park City. The bar features prosecco on tap. It claims to be the only rooftop bar that serves prosecco on tap in the States. Loopy Doopy's Popsicle sticks are also popular.
Raffaello Hotel – Chicago (Drumbar)

The customers of Raffaello Hotel love spending time in the Drumbar rooftop bar built 18 stories above the street. A long list of cocktails waits for people who want to indulge themselves with comfort in a relaxing atmosphere on top of this amazing Chicago hotel.
The Donovan House Hotel – Washington DC (DNV Rooftop Bar)

The poolside rooftop bar of the Donovan House Hotel in Washington, DC, is pumping every weekend with DJ-filled pool parties.  With fantastic views of everything from the National Cathedral to Downtown DC, there just might be no better way to see the nation's capital!
Dream Downtown – New York (PH-D)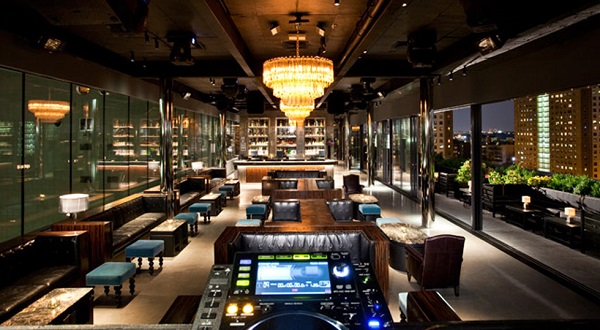 To anticipate the cold winter, this New York hotel has covered its outdoor terrace called PH-D from October until April, otherwise, enjoy the fresh air and sunshine. Guests can join the party on the roof of the Dream Downtown while enjoying the panoramic views of New York City from the rooftop.