The 15 of the Best Things to Do in Chicago For Woman
Welcome to vibrant Chicago, a city where history, culture, and innovation converge to offer an extraordinary experience for women travelers. With its magnificent architecture, renowned museums, lively neighborhoods, and thriving culinary scene, Chicago has something to captivate every woman's interest. In this comprehensive guide, we present the 15 finest attractions for women in Chicago, highlighting why each event is a must-see. And how to plan participation in women's activities, and useful information specially adapted to women's interests.
1. Art Institute of Chicago
Involve yourself in the world of art at the renowned Art Institute of Chicago. From iconic paintings to mesmerizing sculptures, the museum houses an exceptional collection that spans centuries and continents. It's a cultural haven that showcases creativity at its finest.
Admission Fee: $25 (general admission).
Address: 111 S Michigan Ave, Chicago.
2. Millennium Park
Experience the beauty of Millennium Park, a captivating urban oasis nestled in the heart of Chicago. Marvel at the iconic Cloud Gate sculpture, affectionately known as "The Bean," which offers fantastic photo opportunities. Explore the serene Lurie Garden, take a leisurely stroll along the Nichols Bridgeway, or catch a free outdoor concert at the Jay Pritzker Pavilion.
Admission: Free
Address: 201 E Randolph St, Chicago.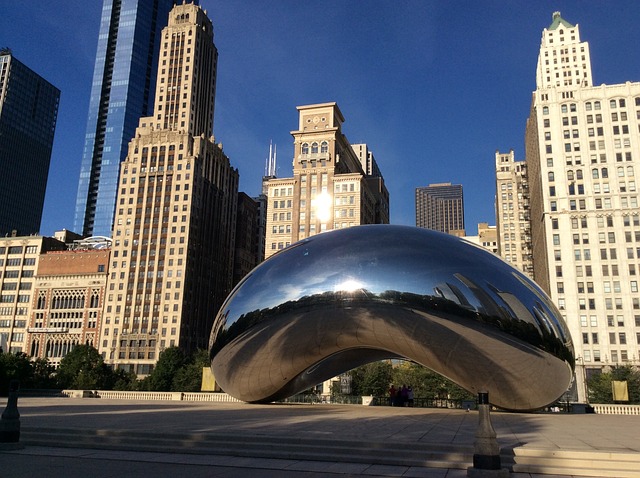 3. Navy Pier
Venture to Navy Pier, a bustling lakeside attraction brimming with entertainment options. Try a ride on a Ferris wheel. Enjoy breathtaking views of the city skyline and Lake Michigan. Visit the Chicago Children's Museum or go to a live performance at the Shakespeare Theater. With an array of shops, restaurants, and attractions, Navy Pier offers an experience that appeals to every woman's taste.
Admission: Free (attractions may have separate fees)
Address: 600 E Grand Ave, Chicago.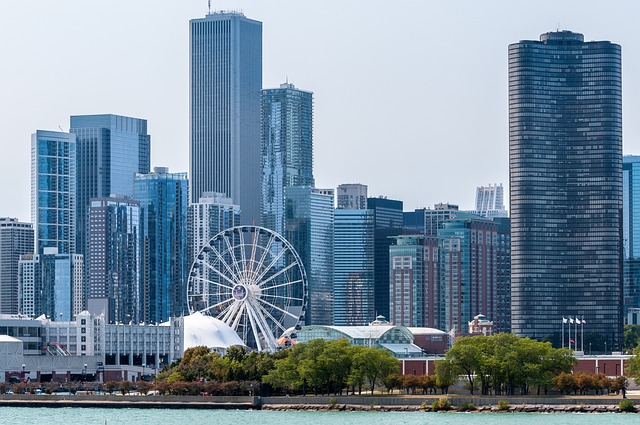 4. Magnificent Mile
Indulge in a shopping extravaganza along the famous Magnificent Mile. This renowned stretch of Michigan Avenue boasts high-end boutiques, flagship stores, and luxury shopping centers. From designer fashion to unique souvenirs, the Magnificent Mile offers an exceptional retail experience.
Admission: Free (shopping costs vary)
Address: Michigan Avenue, Chicago.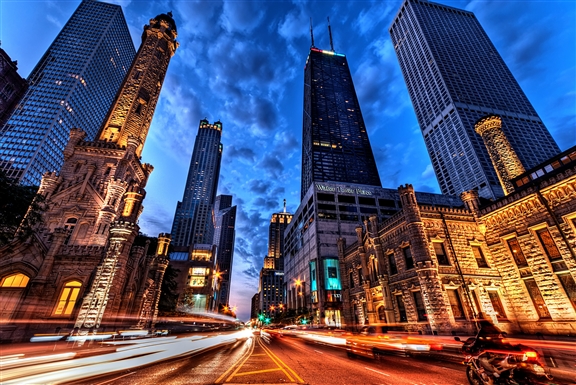 5. Chicago Riverwalk
Indulge in stunning views of the Chicago River from the city's vibrant waterfront. This picturesque stretch invites you to take a leisurely stroll or enjoy a tranquil meal by the shore. Experience the river up close by renting a kayak or paddleboard, or simply unwind at one of the delightful waterfront cafes.
Admission: Free
Address: Chicago Riverwalk, Chicago.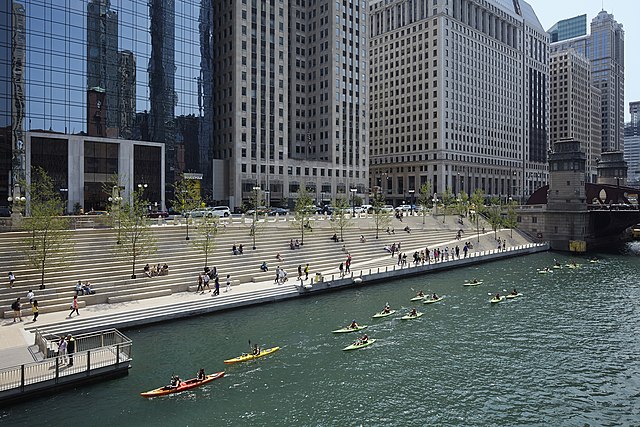 6. Grant Park
Discover Grant Park, a sprawling green oasis known as "Chicago's Front Yard." This expansive park features iconic landmarks such as Buckingham Fountain, a majestic centerpiece that offers a dazzling water and light show. With its scenic beauty, peaceful atmosphere, and year-round festivals and events, Grant Park is a must-visit destination for nature lovers and culture enthusiasts alike.
Admission: Free
Address: 337 E Randolph St, Chicago.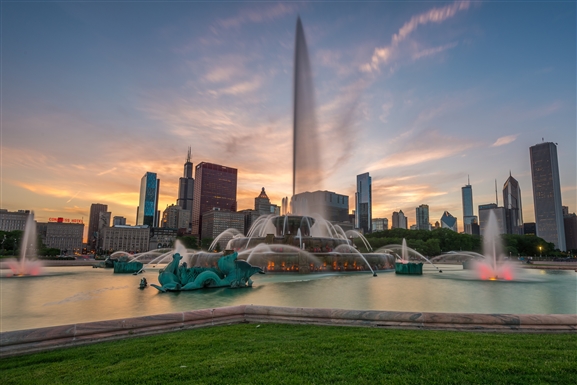 7. Chicago Architecture River Cruise
Embark on an architectural adventure with a Chicago Architecture River Cruise. Float along the Chicago River while expert guides provide fascinating insights into the city's world-renowned architecture. Marvel at the iconic skyline and learn about the historical significance of each building, making it a truly enriching experience.
Admission Fee: Prices vary (starting from $41)
Address: 112 E Wacker Dr, Chicago.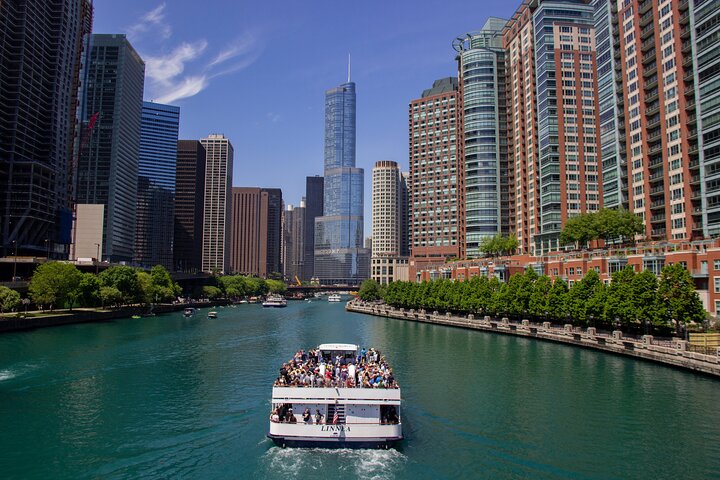 8. Chicago History Museum
In the museum, you can get acquainted with the history and heritage of Chicago. You can plunge into the past of the city, see interactive exhibits and historical artifacts. For example: Exhibits highlighting the Great Chicago Fire, the Prohibition era, and the city's contribution to the arts, culture, and industry.
Admission Fee: $19 (general admission)
Address: 1601 N Clark St, Chicago.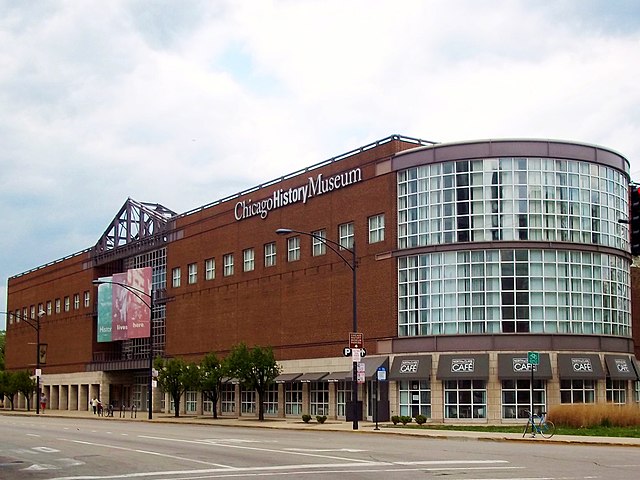 9. The Field Museum
Unearth the wonders of natural history at The Field Museum. Delve into captivating exhibits that showcase ancient artifacts, dinosaur skeletons, and interactive displays. Discover Sue, the largest and most complete T. rex ever found, and explore the museum's rich cultural and scientific collections.
Entry fee: $39.95 (general admission)
Address: 1400 S Lake Shore Dr, Chicago.
10. Shedd Aquarium
Dive into an aquatic wonderland at the Shedd Aquarium. Explore an array of captivating exhibits that house thousands of marine species, including dolphins, beluga whales, and colorful tropical fish. Witness captivating aquatic shows and learn about marine conservation efforts at this world-class aquarium.
Entry fee: $39.95 (general admission)
Address: 1200 S Lake Shore Dr, Chicago.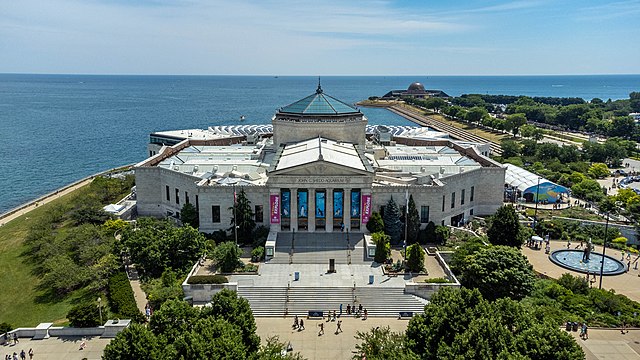 11. Chicago Cultural Center
Immerse yourself in the arts at the stunning Chicago Cultural Center. Admire the grandeur of its architecture, browse rotating art exhibitions, and attend free concerts and performances. Celebrate the city's rich cultural heritage and discover the talents of local artists.
Admission: Free
Address: 78 E Washington St, Chicago.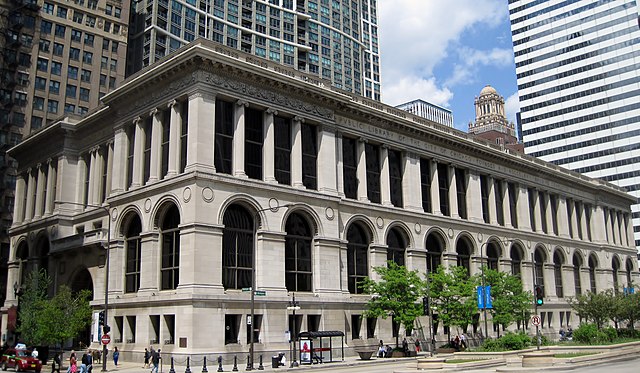 12. Adler Planetarium
Embark on a cosmic journey at the Adler Planetarium. Explore interactive exhibits, observe celestial bodies in the Grainger Sky Theater, and engage in immersive space exploration experiences. Broaden your understanding of the cosmos and find inspiration in the marvels of outer space.
Admission Fee: $24.95 (general admission)
Address: 1300 S Lake Shore Dr, Chicago.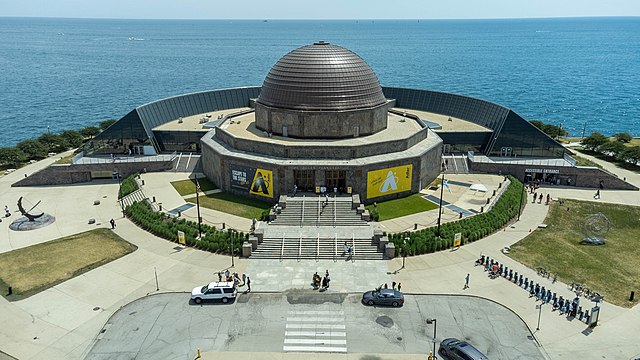 13. Lincoln Park Zoo
Admission: Free
Address: 2001 N Clark St, Chicago.
For nature lovers, you can visit the Lincoln Park Zoo. This is the one of the oldest zoos in the USA. This cherished institution boasts a wide variety of animal species, providing a peaceful haven amidst the bustling city. Explore the beautifully landscaped grounds, attend animal feedings, and enjoy family-friendly activities.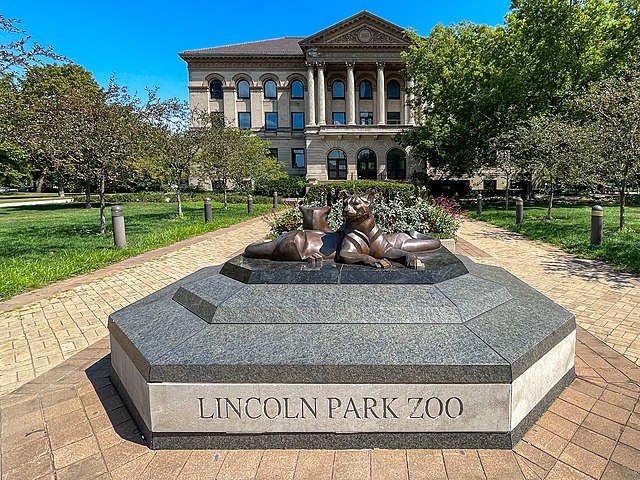 14. Chicago Theatre District
Feel yourself on the lively theater scene of the city. The Chicago Theater District offers a wide selection of Broadway-level productions, musicals, plays and live performances. From iconic venues like the Chicago Theatre to the Cadillac Palace Theatre and the Oriental Theatre, prepare to be captivated by world-class productions.
Admission: Prices vary
Addresses: Vary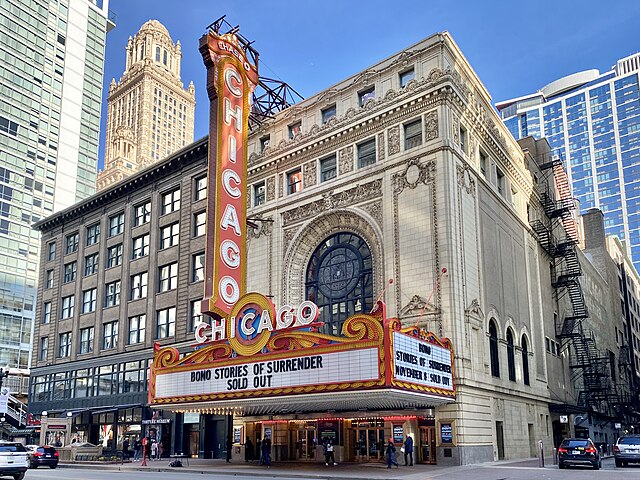 15. Garfield Park Conservatory
Escape to a botanical paradise at the Garfield Park Conservatory. Enjoy stunning gardens and greenhouses filled with exotic plants, lush foliage and colorful flowers. Feel yourself in the tranquility of this urban oasis and take the time to interact with nature in the heart of the city.
Admission: Free
Address: 300 N Central Park Ave, Chicago.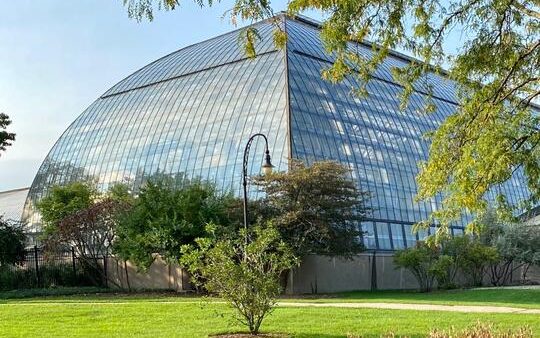 Bear in mind that this city is brimming with opportunities. And this moment, and this city, where there are endless opportunities for participation, establishing contacts and prosperity. Whether it's professional development, cultural exposure or personal growth. This place offers a vibrant and supportive environment for women to follow their passions and make their mark.
Here are some additional suggestions for useful activities for women in Chicago:
Attend a Women's Empowerment Event:
Stay attentive for events, seminars, and workshops dedicated to fostering empowerment and growth among women. These events often feature inspiring speakers, networking opportunities, and skill-building sessions.
Join a Women's Networking Group:
Chicago is home to numerous professional and social networking groups exclusively for women. Engage with like-minded women, expand your professional network, and gain valuable connections and support.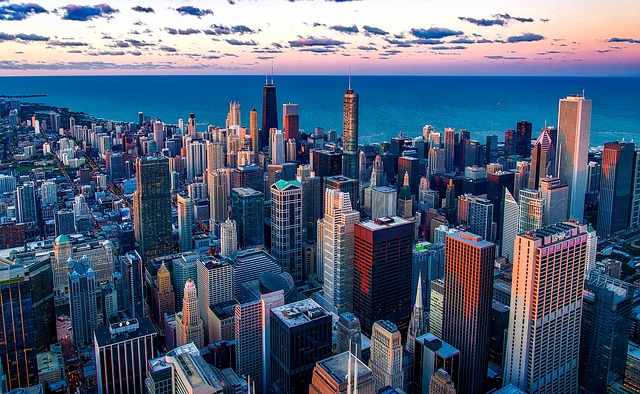 Explore Women-Owned Businesses:
Chicago boasts a thriving community of women-owned businesses. Discover unique shops, boutiques, and restaurants that showcase the talents and entrepreneurship of women. Support these establishments by shopping locally and trying out their offerings.
Visit Women-Centered Exhibitions:
Stay tuned to Chicago's vibrant art scene. Where museums and galleries showcase exciting exhibitions celebrating the achievements and impact of women artists, activists and cultural icons. These thought-provoking showcases offer a platform to celebrate the extraordinary creativity and profound influence of women. You can recognize the significant contributions of women throughout history and in today's society.
Participate in Fitness and Wellness Activities:
Discover a wealth of opportunities in Chicago to enhance your physical well-being and nurture your overall health as a woman. The city presents a myriad of fitness classes, yoga studios, and wellness centers dedicated to meeting the specific needs of women. Enjoy invigorating activities like yoga, pilates or group classes. They can help you refresh your body and mind. Get ready for this rejuvenating experience. Use its transformative power and embark on a journey of self-care and personal growth.
Volunteer for Women's Causes:
Support local women's organizations or charities in Chicago. Volunteering in local women's organizations or charities allows you to make a significant difference.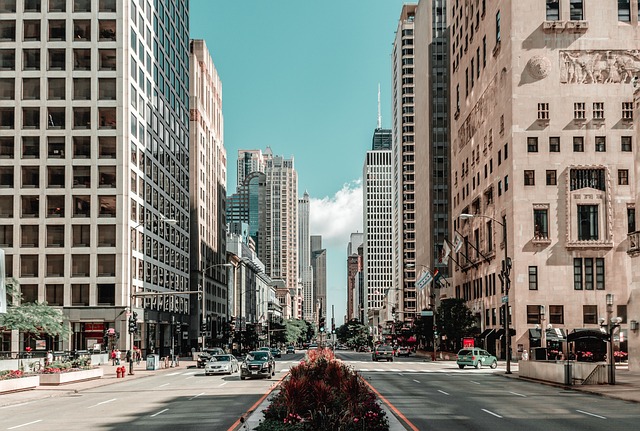 Attend Women's Sporting Events:
Chicago is home to professional women's sports teams. There are famous basketball, football and fencing teams here. You can attend these competitions with the participation of these women's sports teams. Try to support these athletes in their games and experience the excitement of women's sports on your own experience.
Take Self-Defense Classes:
Boost your personal security and self-confidence by enrolling in self-defense courses. Here, the city offers many workshops and courses designed especially for women. These courses provide valuable personal protection skills.
Enjoy Chicago's Food Scene:
Explore the city's culinary landscape by dining at women-led restaurants and eateries. Taste a variety of dishes and enjoy the flavors created by talented female chefs.
Engage with Women's Organizations:
Chicago is home to numerous women-focused organizations. These organizations advocate for gender equality, promotion, and social causes. Contact these organizations to participate in events, workshops and discussions about women's issues.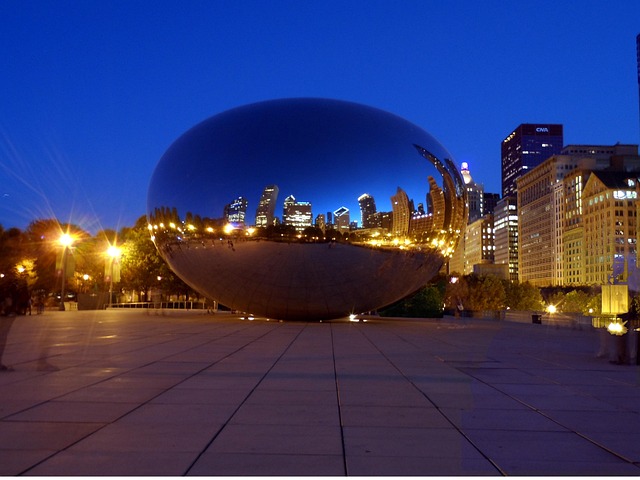 A place where energy, creativity and diversity reign, it is an ideal playground for women looking for unforgettable adventures. From the awe-inspiring art at the famous Chicago Art Institute to the serene beauty of Millennium Park, this vibrant metropolis offers many experiences that will ignite your passions and nourish your soul.
Indulge in retail therapy along the glamorous Magnificent Mile, where fashion and style take center stage. Immerse yourself in the architectural wonders of the Chicago River on a captivating cruise, where the city's skyline unfolds before your eyes like a living work of art. Explore the depths of the ocean at the Shedd Aquarium or let your imagination soar at the Adler Planetarium.
In Chicago, history comes alive at the Chicago History Museum, and nature flourishes at the Lincoln Park Zoo and Garfield Park Conservatory. From cultural festivals to captivating theater performances, the city's events calendar is brimming with activities tailored to inspire and entertain.
As a woman traveling in Chicago, you'll find a welcoming and empowering atmosphere. A city where you can find support for your diversity values supports your inclusivity and empowerment. Join the vibrant cultural landscape of this place and immerse yourself in the life of local communities. Communities that encourage diversity and foster positive change.
Chicago extends an invitation to embrace your interests, delve into curiosities, and forge lasting memories. So, pack your bags, plunge into the bright spirit of the Windy City and go on an extraordinary journey. Chicago welcomes you with open arms, offering endless opportunities to spark your imagination and create stories that will last a lifetime.