5 TIPS FOR THE BACKPACK TRAVELER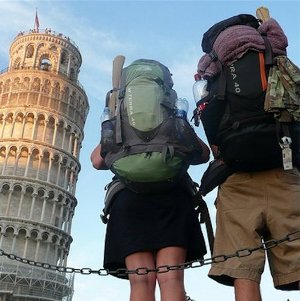 If you are opting to tour Europe by backpacking you can take the train and try finding hostels and cheap hotels when you arrive at your set destination.
If you are backpacking the US you may have to ride a bus or a train to reach your final destination.  If you've decided to take this type of trip to Eastern Europe be prepared as it is very cold right now.  All these types of backpacking trips can be fun, for those who want to explore the world and cultures in a straightforward and cheap way, trying to save cost and living the adventures and adversities they face with a positive attitude.
Here are some tips for the backpack traveler so that their journey may run smoothly.
1.       Being inventive when going on a trip can help situations where you need a certain item, but don't have it.  An example would be salt and pepper holders.  If you would like to bring them along you can use small containers like medicine bottles or zip lock bags.
2.       If you want to open drinks like wine or beer, try to remember to bring a bottle opener for corks and caps.
3.       In order to ensure you don't get bored bringing travel size games, cards, and cross word puzzles could help the train or bus ride, or television absent nights.
4.       An extra blanket that is small enough to be used for multiple purposes can be quite efficient when travelling.  A shawl or sarong can be manipulated to serve as something extra to keep you warm, a belt, a tablecloth and a strap for holding things.