Taliban Suicide Bombers Attacked Intercontinental Hotel in Kabul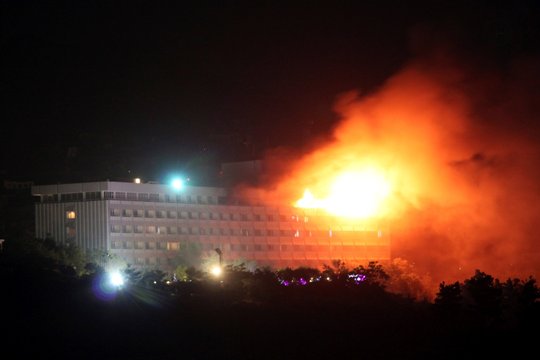 The BBC reported that five members of Taliban army burst into Kabul's Hotel Intercontinental and were involved in a gun battle with security forces today (news by BBC). According to the report, the militants were part of Taliban fighters who acted as suicide bombers. The battle with the security forces lasted for hours. At least 10 people had been killed in the incident. The people who settled around the hotel could witness the hotel that was located on a hilltop in the fringe of Kabul was lighted up by explosions and gun fire.
One Taliban attacker blew himself up as the Afghan national security surrounded the hotel with machine guns and rocket propelled grenades. The local authorities flocked to the hotel immediately after the assault began at about 9.30 pm local time.
A spokesman for Taliban has stated that they were responsible for the attack. He told the Associated Press that one of the fighters called on a cellular phone and said all the fighters have burst into the hotel just like what had already planned. The caller said they have killed and injured 50 foreign and local enemies. The caller also mentioned that all the guests who were mostly foreigners have been taken out of their rooms one by one.
Mohammad Zahir, a senior police officer of Kabul, denied the claim made by the Taliban's spokesman. He said that the Taliban militants had been isolated on the roof and could not reach the rooms of the hotel. He also said that a number of fighters attacked the officers from outside the hotel and wounded at least five officers including himself.
According to an Afghan official, a group of senior provincial officials were staying at the Intercontinental hotel during the attack. This attack tarnishes the face of Afghan officials as the government is preparing for a conference about a step-by-step transition of military and civil authority from foreign forces to the Afghans. However, an official of the Afghan government has told reporters that Intercontinental hotel is not the venue of the conference.