Ten Thrifty Train Travel Tips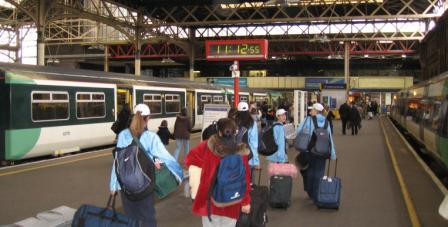 Train travel is an economical and pleasant way to see the countryside, and nowhere is it more popular than in Europe. However, it pays to know quite a bit about train travel and some tips to save you a lot on your tickets.
The general rule of thumb is to book as early as possible. Specifically, buying twelve weeks in advance of your trip can save you significantly. Network Rail must have timetables set twelve weeks in advance, so all of the tickets are released at that point.
Try The Train Line to be emailed as soon as cheap tickets go on sale for your intended itinerary.
Always check if advance tickets are still available, even if you're on the way to the station- as those are much cheaper, even at late moments before your trip, sometimes as late as an hour or so before the train leaves.
Routine travelers need to check into season tickets or railcards, depending on where they travel and how often. There are a number of different passes depending on your typical travel routes and times.
There are often discount railcards available. Some examples are the Senior Railcard, Family & Friends, and youth (16-25) card. These often cut at least one third from the travel bill. You can buy them from the website. Don't assume you can use your Railcard for trips during peak times- double check to be certain.
Season tickets can save you money, as long as you beware of hidden fees. National Rail has a season ticket calculator on its website that will help you compare costs. Identical routes can have lots of different season ticket options, so be sure to check out each one, and purchase only the travel you need. For instance, a more restrictive pass can save you more money if you aren't traveling as far on a typical basis.
Always check for hidden promotions by checking National Rail's site for the local promos index, which will list all of the active specials.
Also check out Megatrain because they offer fares from £1 with very early booking between large cities.
Virgin Trains has a handy farefinder on its site to help you find the best fares. Midweek bookings are typically very low, and fares between main hubs are quite inexpensive.
Buying split tickets can often save you money. So check the total fare from your origin to destination, and then also check the stops along the way and the fares—you may be pleasantly surprised with a big, fat discount!
When vacationing, the transportation is a major cost, as are the hotel accommodations. To find the greatest value for your lodging dollars, as well as find lots more money-saving travel tips, go to the Travelphilosophy.com website. The customizable and user-friendly interface allows you to search, compare, and book your rooms all in one place.