Eating on the Cheap in Florence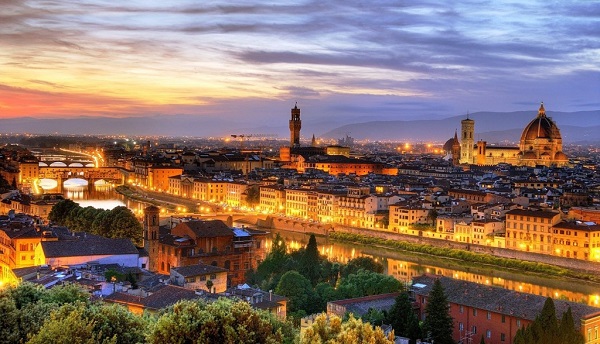 Florence, Italy, is one of the tourist hot spots of the world, with millions of people flocking to its beautiful cobblestone streets every year to take in the gorgeous architecture, amazing artwork, and, of course, fantastic food.
While things in Florence can get a little pricey, especially around the Duomo area, eating well doesn't have to mean emptying out your wallet. From a tripe sandwich out of a food stand to homemade pasta in a tiny trattoria, white-glove service to a table overlooking Ponte Vecchio, the Florence dining scene spans every budget.   
Part of navigating Florence without going broke doesn't mean picking and choosing—it just means choosing wisely. Especially when it comes to food. Instead of splurging on a 8€ espresso at a café in Piazza della Repubblica, tuck into a no-name café on Via dei Corsi. Skip that 10€ gelato at the foot of the Ponte Vecchio and grab a few scoops on Via Faenza. In Florence, just like in any other city in the world, if you eat or drink in an establishment that has a fantastic view or is located near a main tourist attraction, you're going to be paying for ambiance, not necessarily quality.
With these things in mind, here are some great places to enjoy Florence's culinary delights without going broke.
Coffee/Pastries
As is the case at any café in Italy, be sure you eat/drink standing at the bar, just like the locals do. Not only will you get a more authentic experience, but you'll also save money by skipping the cover charge applied to table seating.
Scudieri
Despite its beyond amazing location of being right in Piazza del Duomo, this fancy café doesn't gouge prices. An espresso will cost you about 1€ and a cappuccino is under 3€. The sweets are to die for.
Phone:+39 055 210733
Address: Piazza San Giovanni, 19R – Florence
Website: http://www.scudieri.eu/
La Loggia Degli Albizi(Borgo degli Albizi, 99R)
Boasting superb croissants, this tucked-away café is a perfect breakfast spot. Teeming with locals, the coffee is fantastic and fairly priced.
Pizza
Le Campane (Borgo La Croce 85/87): A great family-run restaurant/pizzeria, Le Campane is located about a 5-minute walk from the duomo in a residential neighborhood. The food is delicious, the wine is cheap, and the delicious pizzas tossed and made fresh to order will only put you back about 8€.
Pugi (PIAZZA SAN MARCO 9/B – info@focacceria-pugi.it – http://www.focacceria-pugi.it/)
More of a takeout focaccia place as opposed to a traditional pizzeria, Pugi is the perfect place to grab a quick bite before of after visiting the Academmia. Grab a number, check out the options, and tell the lovely attendants how big of a piece you want. For just a few Euro, you'll be full all afternoon.
Pasta
Trattoria Mario
For 60 years, this hole-in-the-wall trattoria serves up amazing food, including fantastic pasta and wonderful soups. With a menu that changes daily and is crossed out as ingredients run out, Mario's is frequented by locals and visitors alike—all of whom go back again and again for the fantastic food and incomparable experience. Get there as close to noon as possible to snag a table for lunch, the only meal they serve.
Address: Via Rosina, 2, 50123 Florence, Italy
Phone:+39 055 218550
Website: http://trattoria-mario.com/
Osteria Santo Spirito 
Located on the Pitti Palace/Boboli Gardens side of the Arno River, this small osteria has pasta dishes for under 10€ apiece—a steal considering how enormous the portions are. If you plan on ordering a first and second course, consider getting and half-portion of pasta. It will still be more than enough!
Address: Piazza Santo Spirito, 19 r, Florence, Italy
Phone:+39 055 238 2383
Website: http://www.osteriasantospirito.it/
Meat
Il Latini
This hard-to-find restaurant specializes in the famous bistecca fiorentina, which is ordered by the kilo and always served rare. Prices are a little higher here than at other locations on the list, but you'll truly enjoy some fantastic meat dishes here.
Address: Via dei Palchetti, 6R, 50123 Florence, Italy
Phone:+39 055 210916
Website: http://www.illatini.com/
Aperitivo
Want to eat and drink but don't think you have the money for both? Think again. Across Florence, and indeed the entire country, you'll be able to partake in aperitivi, or happy hours, where if you order a drink, you can eat for free. While some places have better buffet options than others, in some, you can make a whole meal out of it.
Kitsch
Located in a residential area about 10 minutes away from the duomo, this trendy American-style bar puts out a superb buffet for aperitivo, including multiple pastas, salads, grilled veggies, and even dessert. Go up as many times as you want for as long as you have a drink. Pay for your beverage plus 8€ for the buffet and you have yourself dinner!
Address: Viale Antonio Gramsci, 1/5 R, 50121 Florence, Italy
Phone:+39 055 234 3890
Website: http://www.kitschfirenze.com/
Slowly (Via Porta Rosa 63): A great aperitivo right in the historic center, Slowly brings a young college crowd looking to save a few bucks. With a nice selection of pastas and a great drink menu, this Florence aperitivo spot won't disappoint.
Address: Via Porta Rossa, 63, 50123 Florence, Italy
Phone:+39 055 264 5354
Website: http://www.slowlycafe.com/
Gelato
Antica Gelateria Firenze(Via Faenza 2): Close to the duomo but far enough away to keep prices down, this gelateria has a great variety of flavors and the taste is excellent.
Address: Via Faenza, 2, Florence, Italy
Phone:+39 320 848 5018
Gelateria de Medici(Via dello Statuto 3): A fancy gelateria with amazing flavors and reasonable prices, the Gelateria de Medici is a little hard to get to (behind the train station), but is well worth it.  Try the Crema di Medici flavor, which is perhaps the best thing ever invented.
Address: Via dello Statuto, 3, 50129 Florence, Italy
Phone:+39 055 475156
Website: http://www.gelateriademedici.com/
See? Cheap food and Florence can go hand and hand. And there's no need to sacrifice flavors, experience, and quality to find it. Once you arrive, be sure to ask for restaurant recommendations from the staff at your Florence hotel.