5 affordable restaurant to eat in New Delhi
This country is known for its various cooking and recipes. You need to have a good guide to choose which place will give you the best meal. Here are some recommendations on restaurants to get the best and the most delicious meal in India.
Karim hotel
This dining place offer nothing to see but it is worth to come and eat at this place since this is one of the oldest restaurants in New Delhi. You can enjoy tasty Mughal with less than $13 for two persons. It is a big bargain moreover; you can also see various things around the restaurant that you may not see in other places.
Chor Bizaare
Try to eat at this restaurant to enjoy their thieves' market spirit. It actually contains an eclectica nd wide array of items that can be found only in a special markets. You will be able to eat various menus from India's northern Kashmir region. You will have a nice lunch with walking tour inside this restaurant. The setting is very nice. The price for lunch is less than $12.
 Bukhara
The restaurant has been voted as ""best Restaurant in Asia"" by Restaurant magazine in UK. You will have a very good atmosphere with nice setting from this place. There are various meals offered but you should not forget to order kababs and also naan bread which is in a family size. Reservation is needed if you want to be here. The price to taste the meal is about $100 for two persons.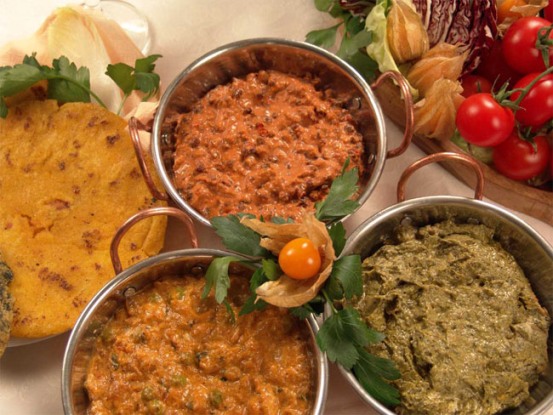 Veda
Visit this restaurant to get very romantic atmosphere. Everything in this place is pretty shimmers and flickers to grab your attention. You can order various kinds of meal start from traditional to contemporary Indian cuisine. The menu marries traditional and contemporary Indian cuisine. Another quality of this magnificent restaurant is its central location.The price to get the meal here is less than $40 for two persons.
 Punjabi by Nature
If you want to have a hip place, this restaurant is the best destination for you. You will see the waiter is wearing traditional Punjabi attire. Try their vodka gol-gappas, naan bread as well as Raan-e-punjab. The price that you need to pay is around $50 for two persons.