Off-the-Beaten-Path Barcelona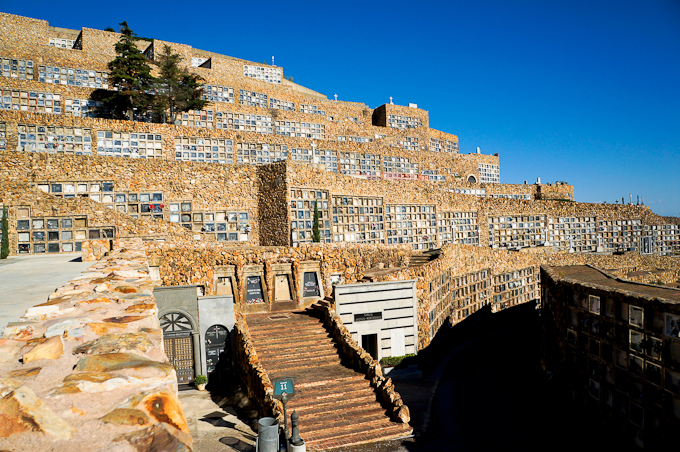 Barcelona is one of the most favorite places in Europe to visit, and while first-timers spent their vacation exploring Sagrada Familia (http://www.sagradafamilia.cat), taking in some rays at the beach, and roaming down La Rambla, we have some tips to help you see Barcelona off-the-beaten-path.
Montjuic Cemetery is 56 hectares of tombs, graves, and headstones. Opened in 1883, this mini-city on the cliffside is full of the dead and is pretty amazing. Follow the Route of Montjuïc for a different sort of holiday tour.
Collserola Natural Park. Just outside of Barcelona city is 8,000 hectares of forest and parkland. Forget the beaches and the hustle and bustle of the city center and have a refreshing break wandering the shady pathways and admiring the stunning views.
Plaça Sant Felip Neri. A romantic place with a sad tale. It was here that the most famous son of Barcelona, the famed artist Gaudi, was run over and killed by a tram.
If you like Gaudi's work, visit Park Güell (http://www.parkguell.cat) and see some of his fantastic and colorful creations.
Experience eating in the dark at Dans Le Noir? The restaurant has no lights and everything is done by using the other senses.
Get lost in a maze. Parc del Labirint in Horta just outside the city is rarely found by tourists and is a different way to spend a few hours.
Poble Sec is one of the few areas in Barcelona where you can go out to eat and mix with the locals.
Parc de La Creueta del Coll is a hidden place to cool off in Barcelona. The old quarry is now an open-air pool popular with the locals–it also has a rather weird sculpture hanging from the walls.
Go underground at El Refugi 307. The Spanish Civil war from 1936-1939 left behind a legacy of subterranean tunnels that shows us the realities of the life as many elements, including the hospital, are intact.
If you want to visit a market crowded with tourists, head for La Boqueira, or go where the locals go to Sant Antoni. This giant combination of food, clothes, and flea market in the El Raval area will keep you bargain hunting for hours.
For train and tube enthusiasts, Barcelona has 12 unused ghost stations on the network of rails that serve the city. Deserted for a variety of reasons, many of them are still accessible to listen for the whistle of trains long departed. FGC Avinguda de la Llum station is just one of them.
In 1881, El Rey de al Magia opened in Barcelona and has kept the secrets of its magic tricks and props ever since. A museum as well as a shop, you can see demonstrations of the tricks, but you will never learn the secrets.