Four Best Ice Fishing Spots in America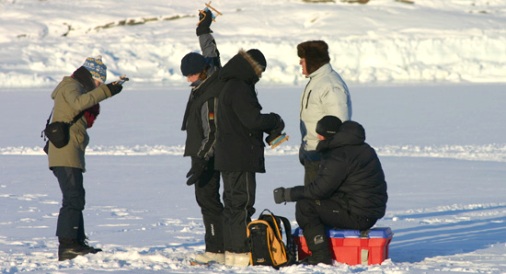 America has a lot of ice fishing spots. It is depend on you to choose which spot to attend. There are times when you attend one fishing spot, your bait is crowded by fishes so that you don't need wait for a long time to have your basket full with big fishes. But, there are also probably more time when you pick one fishing spot, then you wait for a day long without any single fish catched. In addition to ice fishing, when you pick the wrong ice fishing spot, you will end up freezing instead of cheerful for the catches.
To help you on your winter vacation, we suggest to visit this 4 top ice fishing spots in the United States.
Caspian Lake, Vermont
The Caspian Lake is a very large lake. Located in Vermont, this place is the favorable spot of local fishermen. They see fishing not as a seasonal hobby, but instead, they see it as the source of procreation. This lake is full with fish, even when you visit this place, you will be able to see some fishermen leaving the ice with a basket full of Perch, a most uncommon catch there. By the time this lake is frozen over, this place is quiet, but never empty. Do not surprise when you can always see one or more fishermen in this lake. But don't be afraid, as the motto said, there is always room for one more. Don't forget to bring your brightly colored lures and bait, fishes there are likely prefer the colorful one.
Higgins Lake, Michigan
Higgins Lake offers a overflowing supply of cold water species. This deep lake is mostly filled by Yellow Perch and Trout. You can catch them in one condition: find the fishing spot in the deeper territory, such as the center of the lake. Weather can be a big trouble, because when it has some late warm weather, you won't be able to catch any. So, it is better to consult to local tourism board the perfect timing to visit the lake.
Peavy Reservoir, Michigan
Michigan is the city with hundreds of lakes so it is possible to list it twice in one's schedule. Peavy Reservoir, or sometime know as Peavy Pond, is one of those lakes that offers various fish during winter. This lake is filled with an immense amount of Panfish, so it is common for local fishermen to release the fish due to the fish can be catched easily. The best catch from this lake is large Pike and Walleye.
Caples and Silver Lakes, California
Actually, California is not famous for its ice fishing, but this Northern California lake make a distinctive fate for its offering, namely finest winter fishing in America. This lake is filled with a huge and healthy population of trout. To catch this fish, local fishermen usually drill the ice surface that attracts the fish for its warmth. Besides the catch, this lake also provides a stunning overview that makes this lake the top of the top ice fishing spot.