8 Hotels You Need to Visit Before You Die
Every time you travel, the place you stay can really set the tone for the entire vibe of your stay.  And opting for a hotel that goes so over the top can really elevate your trip to unforgettable.  Without further ado, here are eight hotels to die for!  Any visit here will leave you in awe:
Hotel Kakslauttanen, Finland
The Igloo Village, a unique take on the ice hotel, is part of Hotel Kakslauttanen. You can also opt for traditional rustic log cabins, or a warm igloo where you can watch the Northern Lights from the comfort of your bed. Each igloo can fit up to 5 guests, and come with softly-colored lighting built into the walls. Better stack up on warm clothing, though: the temperatures can get to as low as -3 to -6 C (21-27 F)!
The Manta Resort, Zanzibar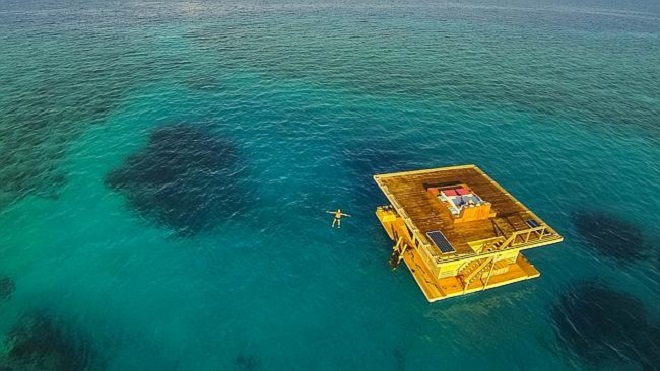 If you like the water but not the cold, the Manta Resort in Zanzibar is for you. What sets this particular suite apart is that it actually floats beside a flourishing coral reef, with its master bedroom submerged underwater! If you feel like ogling at the spectacle that is the reef, you can go snorkeling, or, if you're more daring, you can go scuba diving and explore the vast expanse of this underwater kingdom.
Panchoran Retreat, Bali
You can surely find solace in the Panchoran Retreat, a small space in the forest close to Ubud, Bali-Indonesia. Inspired by none other than nature itself, this little paradise was designed such that it would be difficult to distinguish the interior from the exterior. Only recycled or sustainable materials were used to create it, and there are a total of 7 houses, all with their own majestic views of the valley and nearby bamboo forest.
Katikies Hotel Oia, Greece
A luxury hotel in Santorini's world-renowned resort, Oia, Katikies has already won countless awards, and for good reason. Katikies is the perfect spot for honeymooners. Classic arched ceilings and impressive views of the Aegean Sea are what you should expect in the white-washed suites of the upscale resort. All this set in contrast against the strikingly azure hue of the Aegean Sea will surely melt your heart.
Villa Escudero, Philippines

Villa Escudero, opened to the public in 1981, is one of the most cultural hotel resorts in the world. The villa is a coconut plantation and hacienda located south of the city of San Pablo, Laguna, Philippines. The museum inside has artifacts dating all the way back in the late 1800s. However, the main attraction in the villa is the famous Waterfalls Restaurant, where guests can literally eat on the waterfall bed, for a truly unique dining experience.
Homestead Resort and Spa, Utah, USA
The resort offers cottage-style accommodations that are suited for your needs, offering a quiet escape from the city life. You should visit the 55-foot tall Homestead Crater—a naturally beehive-shaped, hollow limestone rock filled with naturally warm mineral water. You can do yoga, just have the usual swim and soak, or even opt for some scuba diving. The Crater is a geothermal spring, with a hole on top that lets natural sunlight and wind breeze in.
Icehotel in Jukkasjarvi, Sweden
Opened in 1990, this hotel is painstakingly built each year for four months. As the name implies, almost everything in this hotel—from the chairs to the beds—is created from snow and ice blocks. Each room is designed by a different artist, so no two rooms are alike. Even the whole hotel changes architecture every year! There is no heating available, as the hotel needs to be constantly below freezing point.
Montana Magica Lodge, Chile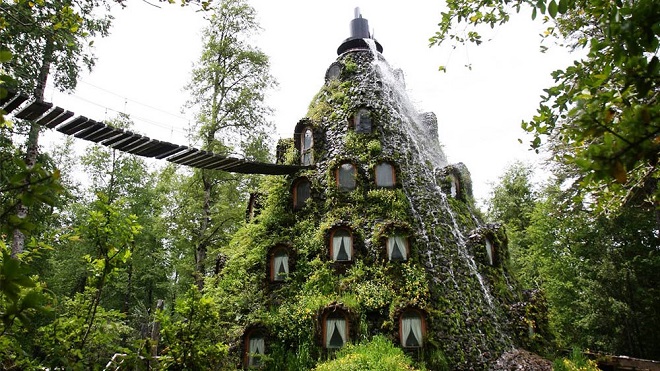 It's not a setpiece from Avatar (2009). The rainforest moss and vines that cover it, and the surreal trick that it spews water instead of lava, makes it look like a manmade volcano. Bathtubs are carved from hollowed-out tree trunks, complete with vantage points for wildlife sightings. It's only accessible via a monkey bridge. This safe haven is part of a reserve, with its amenities built by skilled craftsmen from nearby communities.