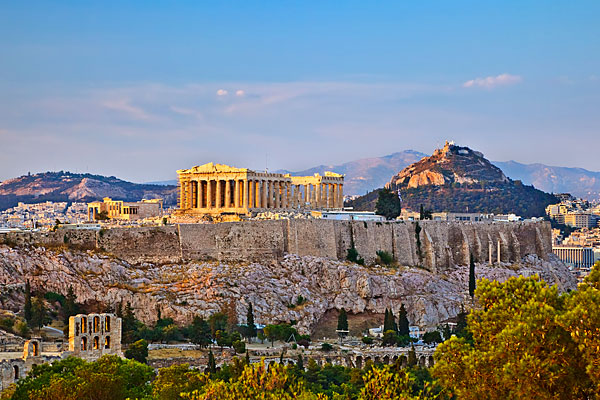 Summer in Athens could be a special time of the year to visit this wonderful city. Yes, the summer heat can be quite unbearable and locals often run away to cooler areas, fleeing the city. But remember, Athens is among the sunniest cities you'll find in Europe, so if you're looking to build that tan, there aren't too many better options than visiting Athens during the summer. With a Mediterranean breeze and an occasional rain, cooling off is just as beautiful as being in the sun. To be on the safe side, though, make sure your hotel in Athens has air conditioning so that you'll be able to sleep peacefully at night.
But of course, you don't want to stay parked in your hotel room during your Athens summer vacation. Take the usual precautions of a hat, sunglasses, and sunscreen and you should be prepared for the day. The humidity during the summer in Athens can also be high, so drink lots of water. Though the daytime can be hot during the summer, late afternoons and the mornings are very pleasant. That's a relief.
The summer nightlife in Athens is amazing. Locals hit the streets at night to avoid their warm houses and tourists are ready to mix it up with them during a night of partying. Add to that some Mediterranean magic, and what you'll have is something fantastic. Head to the Psiri or Plaka region of the city to find the biggest parties.
There are also plenty of theatrical and music events during the summer in Athens. Often times, big-name performers hit the stage in picturesque locations across the city. You may want to check out what is happening at the Vrachon Theater.
Greece is an island country, so there are plenty of beaches all around. Some of them are fantastic too, and are very close to Athens as well. Just put on some sunscreen, spread the towel on the sand or the recliner, and take in all the sea breeze. Life couldn't be more relaxing. Or you could play some beach sports. You can find some beautiful beaches with day trips to Poros or Sounion.